Children are Hugh Laurie's 'One Extreme Pleasure'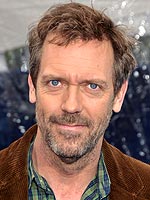 John Shearer/WireImage
House star Hugh Laurie is notoriously prickly when it comes to the press, offering up as little information as possible about his private life with wife Jo Green and the couple's three children Charles 'Charlie' Archibald, 20, William 'Bill' Albert, 18 and Rebecca Augusta, 15.
In a recent interview with PARADE, however, the 49-year-old Golden Globe-winning actor could barely conceal his paternal pride. "I'll tell you the one extreme pleasure I admit to — praising them," he beamed. "My children are actually perfect."
And not at all like their father, apparently! Hugh says the kids are "well aware" of his "peculiar ways," and expressed gratitude that they haven't adopted his "dreary outlook" on life.
"My children put up with me…For them, I am a cautionary tale. They look at me and say, 'The hell with it. I'm not going to live that way.' Good for them."
House, currently in its fifth season, airs Mondays at 8 p.m. on FOX.
Source: PARADE
— Missy