Gareth Gates Welcomes Daughter Missy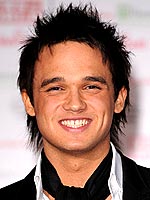 Nick Sadler/Startraks
It's a girl for former Pop Idol star Gareth Gates and his wife Suzanne Mole Gates. Missy Gates was born on Monday, April 6th, weighing in at 7 lbs., 4 oz. The proud new father, 24, shares in a statement that:
"We are so excited, Missy is beautiful and we can't wait to spend time together as a family."
The couple announced the pregnancy in October. Gareth and Suzanne were married on July 18, 2008. The singer entered the public eye when he participated in Pop Idol in 2002 and placed second.
Source: Gareth's MySpace Page
Thanks to CBB reader Victoria.
– Angela