Brooke Burke: The Truth Hurts, and Helps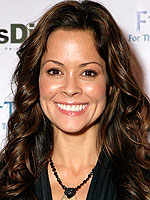 Todd Williamson/WireImage
In a brave mommy moment, Brooke Burke recently "checked in" with daughters Neriah, 9, and Sierra Sky, 7, with an exercise that is not designed for the thin-skinned! During the 45-minute ride home from school, the 37-year-old Season 7 Dancing With the Stars winner handed out a tablet of paper and a pen, and asked the girls to take turns writing down words that described their mom. What they came back with was "eye-opening" for Brooke, to say the least:
"Busy, smart, nice, caring, mean (this one came with 'no offense mom, I don't want to hurt your feelings, but…') helpful, fun. Beautiful, RUDE, late, honest, hero, super mom, fixer, great dancer, great body, cool mom."
After spending some time to reflect on each of the words, Brooke admits many of the words were nice to hear while others made her think her parenting style "might need to be modified." She then engaged the girls in a discussion about what they have been feeling. "I really believe in giving my kids the freedom to express themselves and I want them to be opinionated as well, even if it is negative sometimes," she explains. "Many things I thought would be important to them were not mentioned, and many things I do that I thought they took for granted, were brought up." Writing that she is "flattered to be adored by the little people that matter the most," Brooke has vowed to implement some changes as a result.
"I learned that when I don't always hear my kids out when they are trying to explain something, they feel cut off, unimportant, and they think I am 'rude,' so I will try to listen to their thoughts more. When I am always rushing them in the morning, which is ALWAYS, they think that I am 'late,' so we will get up earlier. All the rest of the stuff was so nice to hear, so positive, and it touched me in many ways."
All in all, Brooke — who is also mom to 2-year-old Heaven Rain and 13-month-old Shaya Braven — harbors no regrets about what she learned. "Although the truth may hurt sometimes, if your loved ones can be honest, the constructive criticism can be fascinating," she adds.
Source: Baboosh Baby
— Missy