Thalía On Her Plans to Pen a Pregnancy Tips Book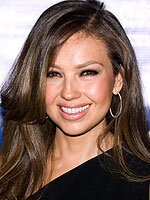 Charles Sykes/AP
A year after contracting Lyme Disease, singer Thalía is on the mend and looks forward to her bright future. As she eagerly awaits the day she and her husband Tommy Mottola will add to their family of three, the 37-year-old — who says adoption weighs heavily on her mind — is shining light on the wonders of pregnancy. "Getting pregnant changed my life forever," she reveals in the April/May issue of Siempre Mujer. "It was something magical, special, that put me in contact with the universe."
That said, Thalía admits that the birthing process was no piece of cake! Despite the countless pregnancy literature she pored through, the songstress was unable to find material that adequately prepared her for labor, she says. In an effort to avoid "surprises" for mamas-to-be and forewarn future parents on any pregnancy-related problems, Thalía is working on Thalía: Radiante! — a book filled with wisdom she gained through her own experience. Sure to be included? Her delivery story!
"Nobody told me that my labor would be 33 hours, for example."
Thalía and Tommy are parents to 16-month-old Sabrina Sakaë.
Source: Siempre Mujer via Quien
— Anya