Keisha Castle-Hughes Struggles With Latest Role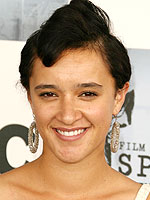 Juan Rico/Fame
Portraying a young mother on-screen is no stretch for Keisha Castle-Hughes, who welcomed her first child — Felicity-Amore, turning two this month — at the age of 17. That's where the similarities end for the now 19-year-old actress and her character in Piece of My Heart, however. In the made-for-tv film, unmarried pregnant women are forced to put their children up for adoption; The script left Keisha feeling "shocked, angry and excited." "The act of having to give up a child was hard to portray," she admits. "It's not an easy place mentally and emotionally to take yourself."
While it was difficult to allow herself to visit such a "place of hurt and loss, especially as a mother," Keisha says it was nonetheless important that she do so. "As an actor and mother I can't imagine anything more hurtful, something that would completely destroy me and my identity," she explains. Her real life status as a mom did offer some other unique insights into the character, however.
"Obviously, playing pregnant was a lot easier for me. Although the physicality of a pregnant woman is quite tricky to pull off when it's a big strap-on mold of foam."
Felicity-Amore is the first child for Keisha and her fiancé Bradley Hull.
Source: Sunday News
— Missy