Life on the Road for Little Big Town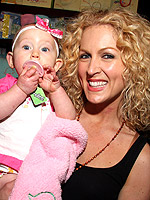 Angela Weiss/Getty Images
If you were to talk to any member of the country group Little Big Town, you'd be quick to notice that there is a special bond between Jimi Westbrook, Karen Fairchild, Phillip Sweet and Kimberly Roads Schlapman. The reason for that closeness? The group travels together on one tour bus along with Phillip's wife Rebecca and their 15-month-old daughter Penelopi Jane, plus Kimberly's husband Stephen Schlapman and their 20-month-old daughter Daisy Pearl!
It may be tight quarters, but Phillip says he wouldn't trade the living situation for anything. "Having our new families out on the road has been working out surprisingly well, and it's nice to wake up to smiling (or screaming) babies," he explains. "They keep the atmosphere light and fun, and brings us together when it matters most."
That's not to say touring hasn't been a challenge, but Kimberly looks to friends in the industry for advice. "Martina McBride taught us how to surround ourselves with people we can trust and taught me, personally, how to balance being a businesswoman and mother," she notes.
Little Big Town will wrap up their first headlining tour this April.
Source: Bam's Blog
— Angela