Keith Urban on the Most Joyous Day of All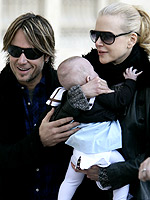 KCS Presse/Splash News Online
When Keith Urban and Nicole Kidman decided on the name Sunday Rose for their baby girl, they were hoping for any day of the week but Sunday one for her big debut. "We didn't want her to be born on a Sunday, because people would think [that was the reason for her name]," Keith revealed during a recent visit to The Ellen DeGeneres Show; Instead, the couple "just loved the name of the day," the 41-year-old country music star says. He elaborates,
"Particularly when you don't have someone in your life, Sunday was like the loneliest day…The day I dreaded the most. Everyone goes with their families, and if you don't have a family, you don't have anybody. It went from being sort of the most dreaded day of the week to the most joyous day, because now we have a family."
Spending the bulk of their time in their adopted hometown of Nashville, Keith shares that Sunday — 9-months next week — is a Southern belle-in-the-making. With two transplanted Aussies as parents, it's likely that her accent will be unique…to say the least! Jokes Keith,
"She might say, 'G'day, y'all.' A nice mix."
Keith's new album Defying Gravity is in stores now.
Source: The Ellen DeGeneres Show
— Missy