Dara Torres Reserves Downtime for Tessa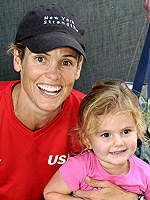 Paul Emmans/Startraks
Although the Beijing Olympics are behind her, swimmer Dara Torres is still in training. The 41-year-old four-time gold medalist is currently setting her sights on the upcoming Nationals, as she eyes a potential spot on the 2009 World Championship team. On those rare occasions she does allow herself an "off" day, it is is reserved by daughter Tessa Grace, turning three this month, she tells the April/May issue of WebMD magazine. The two do nothing in particular, Dara says. "In the past I would go for a bike ride," she admits, but now "it's all about catching up: paying bills, going to the bank, running errands."
Noting that she doesn't really relax, Dara says she instead likes to go to movies and hang out with friends. She adds,
"My daughter has a lot of energy, so in the morning when we wake up I'll watch TV with her, or before she goes to bed."
Having a baby was viewed by some as detrimental to Dara's career, but she says it has had the opposite effect. "The first thing I noticed was that I was more flexible…Everything loosens up in your body," she explains. "I assumed my hips would get wide, but I'm probably narrower in the hips now. I'm not sure why."
Dara's new book Age is Just a Number hits shelves this month. Tessa is her only child with ex David Hoffman.
Source: WebMD
— Missy