Ryan and Trista Sutter Welcome Blakesley Grace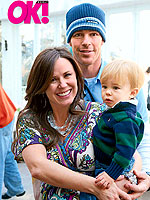 Courtesy OK!
Could she be a future Bachelorette? Trista and Ryan Sutter welcomed their second child, daughter Blakesley Grace Sutter, this afternoon, Friday April 3rd, in their home state of Colorado. Baby girl was delivered by c-section at 1:23 p.m., weighing in at 6 lbs., 2 oz and is 19 inches long. "She's healthy. Everything is really good," Trista tells Life & Style. Blakesley joins big brother Maxwell 'Max' Alston, 20 months.
A member of Trista's family commented below that "the name 'Blakesley' is a family name going back to the 1700's…as far as we have researched. Family names honor the past, and we are blessed to have this name carried forward."
The couple — the lone successful marriage of the Bachelor franchise — announced the pregnancy in October and the sex of the baby in December. Trista, 36, also took some time out to chat with CBB! Trista and Ryan, 34, have been wed five years.
Source: Life & Style