Jarvis Hayes Rushes to Make Son's Delivery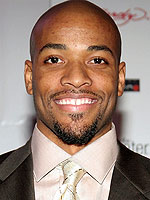 Nancy Ostertag/Getty
New Jersey Nets player Jarvis Hayes believed that this past weekend was going to be just like any other, but little did he know that his wife Illia would go into labor and deliver their first child — son Jarvis James Hayes II — on Sunday, March 29th.
The small forward landed in Minnesota on Saturday evening around 5:30 p.m. to prepare for his team's game against the Timberwolves the next day. However, Jarvis received a call shortly after his arrival, informing him that Illia's water had broken. Quickly calling the airport, the 27-year-old learned that the next flight to Georgia would leave at 7:20 p.m. — the last departing flight of the evening. Acting fast, Jarvis left his hotel and was able to be seated on the plane by 7:10 p.m., in part thanks to his taxi driver!
"[The driver] was going pretty fast, but all the stars were aligned. When I got to the airport, there was nobody in the line, there was nobody in the security line. It took me three minutes to step out of the cab to be sitting in my seat on the plane."
Following the Sunday morning birth of his 6 lbs., 12 oz son — and after receiving an okay from Illia — Jarvis boarded another plane on Monday, heading back to join his team in their game against the Milwaukee Bucks that evening.
Source: New Jersey Nets and Yahoo! Sports
— Angela