Gavin Rossdale: A Baby Girl Makes Sense, As Does Sleep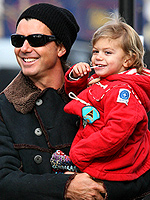 Ian Lawrence/Splash News
Singer Gavin Rossdale is a man on the move. Ready to head out on tour with his 2 ½-year-old son Kingston James McGregor in tow, Gavin loves the adrenaline rush he receives during his strenuous schedule of playing up to five shows a week. The same need for activity rings true in his family life as well as the proud papa describes an ideal evening as including "some really good swimming games with the kids or something physical, like running, because when the kids run and laugh it makes it feel like everything in your life is worth it."
An end to an afternoon spent outdoors with Kingston and 7-month-old Zuma Nesta Rock would undoubtedly be complete with a full night's rest for both Gavin and his wife Gwen Stefani. While that dream may still be in the distant future, Gavin jokes that any additions to the family — controlled mainly by Gwen — would certainly push that goal back even further; However, the possibility of another baby is not entirely out of the question.
"Well, [a little girl] would seem logical, but so would sleep. Sleep would be nice, and a bit of selfish time, which isn't around the corner just yet. But, the men aren't in control of that stuff, as you well know."
For now, the family of four is concentrating on their two boys — a task made much easier by Kingston's newfound love for his baby brother. Grateful that the toddler has "become super sweet…[and] very protective over Zuma," Gavin shares that the sibling rivalry was less than ideal in the beginning. "At first it was best not to leave them alone, but now Kingston's just turned a corner and just a real sweetheart with him which is so sweet and just a relief because it can go the other way," explains the 43-year-old father.
With "super fiesty" Kingston and a "relaxed and chilled out" Zuma — although Zuma has "got time to show more of himself" — Gavin notes that a future in music for his two boys would not be a complete surprise. Confident that the two possess strong opinions that will allow them to choose their own paths in life, Gavin and Gwen will ultimately leave any future career decisions up to their sons. "It's really up to them and I'm sure they'll make a decision about it. For now, they're really into doing everything," he says.
Source: OK!
— Anya