Check Out Our Newest Gallery: Alyson Hannigan's Sunny Maternity Style!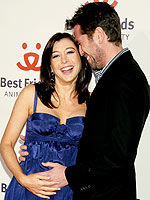 Gregg DeGuire/WireImage
We've loved her in everything from Buffy the Vampire Slayer to How I Met Your Mother, and once she became pregnant, we totally loved her in her clothes! Alyson Hannigan set a high bar for maternity style throughout the past nine months, and we enjoyed seeing her fun, feminine and comfortable outfits.
We've put together a gallery of 10 of our favorite outfits — there were lots to choose from! — that looked just great on the new mom. Though she and husband Alexis Denisof welcomed daughter Satyana on March 24th, we personally can't wait to see what Alyson wears next — pregnant or not! Click here to see the photos.