Brooke Burke: 'A Mother's Work is Never Done'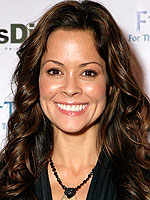 Todd Williamson/WireImage
Most moms will tell you that mornings are the busiest time of the day, and with four young children, Brooke Burke is busier than most! During a recent blog entry the 37-year-old Season 7 Dancing With the Stars champ noted that "a mother's work is never done," and offered up a "typical morning" for her bustling brood as proof. "No need for an alarm," she notes, because 13-month-old Shaya Braven "is up fussing for milk." Her 2-year-old daughter Heaven Rain is quick to make her own needs known, alerting Brooke that she "needs to go potty." As she goes to wake up daughters Neriah, 9, and Sierra Sky, 7, for school, Brooke's back is usually hurting "from being sandwiched in-between two babies that are not yet sleeping through the night." Then the real work begins! Says Brooke,
"I … hurry downstairs to get breakfast ready and make it out the door in time to beat rush hour. Thank God I made lunches last night, and I have a 30 minute drive for the kids to finish eating breakfast. Quick glance at the school calendar to make sure I have not missed anything; I have five minutes for myself to throw hair in a ponytail, sweats and flip flops on and grab my shades to hide the restless night's bags under my eyes."
As she loads her kids into the car, Brooke dashes back inside for her coffee. "On most days, it's not that bad but…before I've had my morning coffee, everything is tough," she explains. "Mornings are all about the kids." As she authored the blog entry from her office, Shaya napped nearby in his stroller … after tagging along for Brooke's Pilates class. "Lately I have been so busy being pulled in a million directions that I am trying to squeeze in my baby moments," she admits. "Isn't that the ongoing challenge of motherhood?..Not to mention the guilt that goes along with the fact that there are not enough hours in the day for everyone's needs."
"Its 10:44 am, I have dropped off Neriah and Sierra at school, worked out with Shaya, wrote an article for my new internet project while he slept, had my second latte, and I'm only getting started."
Neriah and Sierra are Brooke's children with ex-husband Dr. Garth Fisher. Rain and Shaya are her children with fiancé David Charvet.
Source: Baboosh Baby
— Missy