Amy Poehler Hits the Jackpot With Archie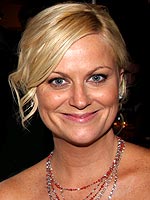 J.H.Saunders/Landov
When Amy Poehler read in a book for expectant parents that babies enjoy being placed on a bed and having faces made at them, she was understandably thrilled. "I was like… jackpot!" the 37-year-old actress said with a laugh during a recent appearance on The Tonight Show with Jay Leno. "It's good for me. It's what I do at my job, basically…except for putting someone on a bed." Amy — who welcomed son Archibald 'Archie' William Emerson, 5 months, in October — joked that the approach has worked like a charm.
"I haven't changed him once. I just make funny faces and hope that he's cleaning himself up."
Life as a pregnant woman was "really fun" for Amy, who enjoyed the warm welcome she and her bump always received. "People are really nice to you…They get excited to see you and they want to pat your belly and call you big mama and all that kind of stuff," she noted. Once Archie arrived, however, the vibe changed considerably! "No one wants to be around you," she lamented. "They don't want you to sit next to them on the plane, it's bad news. They don't want you pushing your kid [in a stroller] ahead of them…They hate you."
Archie is the first child for Amy and her husband Will Arnett; Her new show Parks and Recreation premieres Thursday, April 9th at 8:30 p.m. on NBC.
Source: The Tonight Show with Jay Leno
— Missy
Video of the appearance is after the jump!

Vodpod videos no longer available.