Michael J. Fox on His Estrogen-Fueled House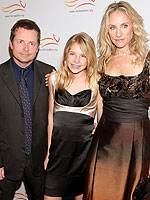 Michael Loccisano/FilmMagic
With his oldest child and only son — 19-year-old Sam Michael — away at college, Michael J. Fox is seriously outnumbered! His three daughters and wife Tracy now rule the roost, leading the 47-year-old actor to jokingly lament during a Wednesday appearance on Live with Regis and Kelly that "the estrogen level in the house is way out of whack." He noted,
"Even the dog is a girl."
Fourteen-year-old twins Aquinnah Kathleen and Schuyler Frances are "wonderfully sweet girls," Michael said, even if they often give their dad a run for his money. "It's like, wear a flak jacket and just keep your head in!" he admitted. As for Sam, Michael said he is "a great kid" who is focusing his studies on science.
"He's taller and smarter and better looking than me. He's so tall, I can't get a good look at him."
In addition to Sam, Aquinnah and Schuyler, Michael and Tracy — who have been married for 20 years — are parents to Esmé Annabelle, 7.
Michael appeared on Rescue Me last evening on F/X; His new book Always Looking Up: The Adventures of an Incurable Optimist is available now.
Source: Live with Regis and Kelly