Lindsay Davenport Hopes For a Tomboy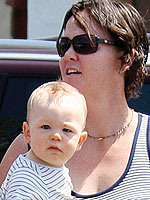 Pacific Coast News
Although dread may not be a mother's typical reaction upon discovering the sex of her baby, Lindsay Davenport jokingly admits that after being told the baby she'll deliver in mid-June will be a daughter, the reality that she could be giving birth to a girly-girl hit her hard!
"Oh my God, that's my biggest fear. I don't wear makeup, I don't do my hair. [She] had better be a tomboy, because otherwise I don't know how I'm going to cope."
Not that the 32-year-old tennis star is new to motherhood in the first place! Already mom to son Jagger Jonathan, 21 months, Lindsay has been enjoying time off the courts since announcing her second pregnancy. "I've spent every day with my son since he was 15 months, and it's been the greatest time," she explains. "I'm really lucky."
While Lindsay has stepped off the clay for now, she believes that fellow tennis star and mom, Kim Clijsters, will do just fine in her return to the courts. "She doesn't want to do this job without her husband [Brian Lynch] and daughter [Jada Ellie, 13 months] being able to go with her all the time," notes Lindsay, who often shares e-mails and text messages with Kim. "She just wanted to make sure that the media demands weren't going to be overwhelming. I told her, 'I'm not going to lie — I'm sure the first few tournaments, you're going to have a lot going on.' But everyone understands her priority is her family."
Lindsay is married to Jonathan Leach.
Source: ESPN