Kelly Rutherford Reflects on Memories of Mom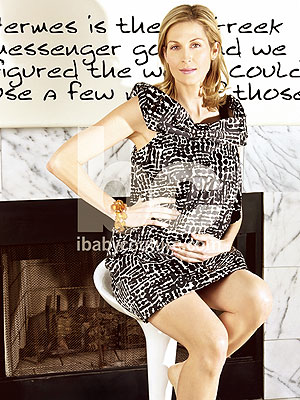 Courtesy BabyCouture for use on CBB
Even as a young child, Kelly Rutherford took her job seriously; From the moment she was made a big sister, Kelly "took over immediately," watching her little brother enjoy holidays and spending her time shopping with her mom.
While the responsibilities of an older sibling are far from those of a mother, her childhood experiences paved the way in parenthood for Kelly, who is due with her second child — a girl — in June.
Leaning on her family and looking to them for advice is not uncommon for Kelly, who often mirrors her mother's parenting skills in raising her 2-year-old son Hermés Gustaf Daniel.
Asked during an interview with BabyCouture magazine how she hopes to be remembered by her children, Kelly is quick to joke that her wish is really quite simple.
"I would just like them to always think of me," she laughs. On a more serious note, the mother of two reflects back on her own mom for the answer.
"I remember talking to Hermés as a baby…I'd say, 'I'm always here for you. You can always tell me everything, whatever you need.' I think it's important for him to know that — that he'll never be judged — that I'm here, and present. My mother has always been that way with me, growing up."
An avid fashionista much like her own mother, Kelly admits that her baby boy seems to have inherited the style gene from her side of the family! Already a great shopping buddy to his mom, Hermés has no problem heading into a store and choosing from the selection. "He likes fashion, he likes things already," shares Kelly. "He knows the colors that he likes."
More on Kelly's name choice for her son and balancing the demands of Gossip Girl with her priorities as a mother below.

When it comes to dressing her dapper dude, the 40-year-old — who keeps Hermés "distracted, watching cartoons" while she dresses him — opts for a traditional sense of style, including cashmere sweaters over polo shirts matched with skinny jeans and Tretorn tennis shoes. Her effort, she says, is all in order to avoid any future embarrassments! "We try not to have any of those pictures where he looks so goofy that he looks back at us and says, 'I hate you for putting me in that outfit,'" she reveals.
"I want him to look back and say, 'Oh my God. I looked great. I looked so cool at two years old!"
One area where her baby boy is sure to stand out is in the name game, but Kelly's "last minute" choice fits her son perfectly — in more ways than one. With an ode to the Greek messenger god, Kelly laughs that his "strong name" also coincidentally pays tribute to her favorite designer store!
"My friend jokes that he's gonna grow up wondering why his name is on all the boxes in my house, ha ha, because I love the stores…" she laughs.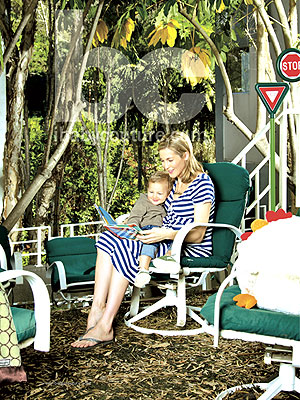 Courtesy BabyCouture for use on CBB
Set to welcome her baby girl in a few short months, the timing of the actress' due date will fortunately coincide with a previously planned hiatus from Kelly's hit show, Gossip Girl.
The decision to work around the expectant mama's pregnancy, however, does not come as a surprise. According to Kelly, the show has been more than understanding when it comes to her list of priorities in life.
"I'm pretty much a full-time mom with a part-time job on a show called Gossip Girl. I don't work that much. They've been very generous with my schedule and with my desire to be a mother, so it's worked out great because I get to spend about 90% of the time with my son and 10% of the time on the set, working."
When her days are spent on set Kelly is never far from Hermés, who enjoys time taking in life on location. "He's great on set. There's so much to see," she says. "There's the fork-lift they use to build the sets — he loves to check that out. And all the trucks and brooms — he loves to sweep."
While the busy atmosphere provides the toddler with "so much to play with," his love of all things fashion-related often has him passing the time in the make-up trailer! "He loves the make-up and hair trailer," Kelly reveals. "He's always blow-drying everyone's hair."
Having recently been granted permission by the courts to travel with Hermés back and forth from Los Angeles to New York City — from her home to her show's set — Kelly reports that her son has become an expert bi-coastal boy. The trick, she says, has been to keep him on a similar schedule, making sure to include his favorite spots in both cities as a part of his routine.
"We spend a lot of time in New York. He goes to Kidville, he goes to the park. He has his regular things he loves to do in New York, and then when we're in L.A., he has regular things he loves to do," she explains.
"So he has friends in New York that he likes to play with, and then here [in L.A.] he has his friends, so I think it's kind of fun for him. We don't travel back and forth that much. Now that I'm pregnant, I'm not doing it all the time."
Hermés and baby girl are Kelly's children with her estranged husband, Daniel Giersch.
Source: Baby Couture