Jennifer Lopez Dishes On Her Talkative Twins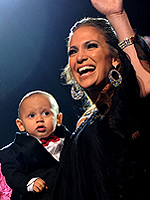 Kevin Mazur/WireImage
Songstress Jennifer Lopez is one proud mama! Recently talking with Us Weekly, the 39-year-old mother to 13-month-old twins Maximilian 'Max' David and Emme Maribel gushed that her babies are growing up incredibly fast — so much, in fact, that Jennifer jokes she "could talk for a year about that!" Citing "everything" as the best part of motherhood, she eagerly dishes on Max and Emme's latest milestones.
"They're walking, they're talking, they're babbling a lot — all of that kid stuff. It's wonderful to watch!"
Already developing the close bond many multiples share, Jennifer's talkative twins are constantly looking out for one another. "Oh yeah, absolutely," she says of the strong connection. "They're very in-tune with each other."
Set to celebrate her fortieth birthday this summer, Jennifer reveals "happiness" is her secret to staying young and keeping up with her brood. Equally important for the singer? Sleep! "Sleep is key," she shares. "It makes everything better."
Max and Emme are Jennifer's children with husband Marc Anthony.
Source: Us Weekly