Ana Ortiz Looking Forward to 'Babymoon'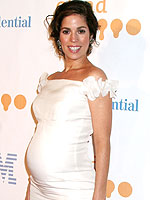 Darla Khazei/Pacific Coast News
Before she welcomes a daughter at the end of July, Ugly Betty star Ana Ortiz has a little rest & relaxation on her agenda! She recently revealed to In Touch Weekly that husband Noah Lebenzon has facilitated that much-needed downtime by planning a "babymoon" the couple hope to enjoy soon. Ana, 38, explains,
"We're just gong to get away, just the two of us, for a spa weekend before the baby comes and spoil ourselves and get pampered."
It should come as no surprise, then, that Ana raves about her "amazing" hubby. "There hasn't been a day that goes by that he hasn't told me that I'm gorgeous and sexy," she said.
Baby-on-the-way is the first for the couple, who married in 2007.
Source: In Touch Weekly