Virginia Madsen: 'I Love My Boy, But I Like My Teenager'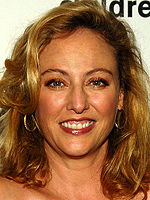 Mark
Sullivan/WireImage
As a single mom raising a teenaged son, Virginia Madsen has heard it all; And while many have cautioned her about the tumultuous years ahead it certainly hasn't been her experience thus far with 14-year-old Jack. "I like to get advice, but I also know a lot of people who really like their teenagers," the 47-year-old actress tells Parade. "It's not all gloom and doom." Although she admittedly missed her baby as he entered his formative years, Jack's pursuit of independence has only endeared him to his mom even more. "I'm proud of him for that," Virginia says, adding:
"It was hard when he was two, you know what I mean? But I like who he is. He's a really interesting guy. I love my boy, but I like my teenager."
Although Jack — whose dad is soap star Antonio Sabato Jr.— has "a little of the acting bug in his DNA," Virginia says his recent appearance in her commercial for Botox should not be misinterpreted.
"The [director] said, 'Well, do you want to run in and be in it?' And he was just 'Yeah!' And then he was over it. After that he was like 'Oh, that was fun. But I think I'm just going to be a filmmaker instead.'"
Virginia's new movie The Haunting in Connecticut is in theaters now.
Source: Parade