Tyler Christopher and Wife Expecting First Child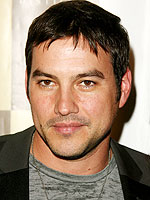 Jen Lowery/Startraks
General Hospital star Tyler Christopher is poised for first-time fatherhood! In a brief statement on his official site, a "thrilled" Tyler shared the happy news that he and wife Brienne Pedigo are expecting a baby. Adds Tyler,
"Brie is pregnant and due Oct. 1, 2009."
Tyler and Brie were married in September 2008 after a two year engagement; Previously, the 36-year-old actor was married to Eva Longoria Parker. He has portrayed Nikolas Cassadine on the ABC soap off and on since 1996. Brie is an auto racing pit reporter for ESPN and ESPN on ABC.
Source: TylerChristopher.com
Thanks to CBB reader Brooke.