The Littrells Open Up About Baylee's Kawasaki Disease
It was a happy rite of passage for Baylee Littrell: His first tooth wiggled free in late February after a fried chicken dinner at the Johnboy's Home Cooking restaurant near his home in Atlanta. "The tooth fairy came!" Baylee says proudly. "He brought me a dollar."
At age 6, Baylee has had to endure much scarier milestones. Two months earlier the son of Backstreet Boy Brian Littrell and his wife, Leighanne, an accessories designer, was hospitalized after a series of symptoms — high fevers, full-body rash, swollen lymph nodes, and blisters that coated his throat — tortured his little body.
The diagnosis: atypical Kawasaki Disease, an inflammation of the blood vessels that in extreme cases can lead to aneurysms and sudden death. Says Brian: "We didn't know what we were dealing with until we found his coronary artery three times the size it should be."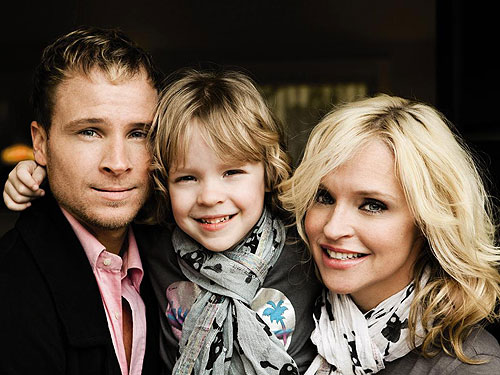 Mark Leibowitz for PEOPLE for use on CBB
It took doctors almost two nerve-racking weeks to correctly diagnose Baylee. "You feel helpless as a parent because you're relying on people who are educated about these things," says Brian, 34, of the frustration he and his wife of eight years felt as doctors tested for, then eventually ruled out, strep throat, hand, foot and mouth disease, and an allergic reaction to antibiotics.
Although Baylee was traumatized by the needles and tests, he remained in good spirits, which comforted his parents. "He got a sponge bath, and he goes, 'This is the life!' He was amazing," says Leighanne, 39. But "I knew there was something really wrong." So she spent hours online researching her son's symptoms and even suggested to doctors that it might be KD. (John Travolta's son Jett, who died at 16 following a seizure, had the disease as a child.)
But that too was initially ruled out because Baylee's case wasn't typical. "Everybody doesn't come in with textbook symptoms," explains family friend and pediatrician Greg Cabrera, one of eight doctors who worked on the case. "Baylee didn't fit all the criteria. It was very, very difficult."
To read how atypical Kawasaki Disease was diagnosed and to see another photo, click below.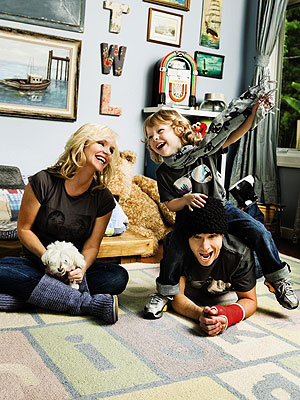 Mark Leibowitz for PEOPLE for use on CBB
The Littrells were also worried about what Baylee called "heart strikes," occasional electrical feelings in his chest.
(Brian could relate: He was born with a heart murmur and underwent open-heart surgery at 23; he later founded the charity Healthy Heart Club for Kids.)
They insisted that doctors at Children's Healthcare of Atlanta at Scottish Rite hospital perform an echocardiogram — an ultrasound of Baylee's heart — which solved the mystery and may ultimately have saved his life.
"Without the echo they were going home that day," says Cabrera. "It stopped everybody in their tracks." (In a follow-up visit, the Littrells say Baylee's cardiologist told them the chest sensations Baylee still feels are unrelated to KD.)
Immediately Baylee began the standard treatment of a 12-hour course of IVIG, a medication designed to reduce arterial inflammation.
He was sent home less than two days later with orders to rest and take aspirin to prevent clotting, and just a week later, tests showed his coronary artery had already started to shrink.
Seven weeks later it was even smaller. "Baylee's cardiologist thinks he's going to make a full recovery and be able to do whatever he wants," says Cabrera.
These days that means school (he's taught at home), karate (he's now an orange belt) and entertaining guests with his impersonation of TV mega-minister Joel Osteen. Aside from tiring more easily, "Baylee is pretty much back to normal," says his dad. "It's been an emotional roller coaster. Fans all over the world were praying for Baylee. We felt that love."
Meanwhile the Littrells hope other parents can learn from their experience. "Never give up," Brian says. "Doctors are not always right, but they are there to help. Be an advocate for your child." Adds Leighanne, "I don't know how we could love him any more, but we do. Every day is a gift."
Source: PEOPLE, April 6th issue
What is Kawasaki Disease? The condition, named for the doctor who first described it in 1967, causes inflammation of blood vessels, including the coronary arteries. It has no known cause and is diagnosed in about 4,000 Americans a year (usually boys ages 2 to 5 and children of Asian descent). Symptoms include fever over 102 degrees for more than five days, rash, red eyes and mouth, and swollen lymph nodes.