SwaddleDesigns Ultimate Receiving Blanket and Burp Cloths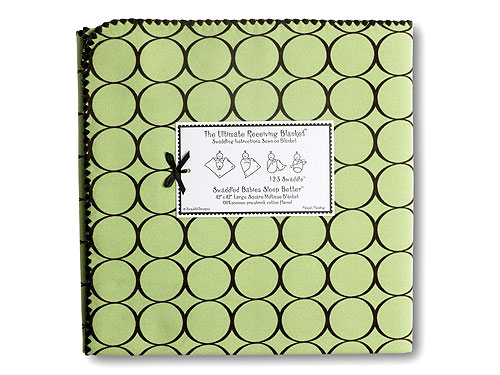 When we had our first son back in Germany, my home country, my American friends highly recommended picking up a swaddling blanket but I was told by three different stores, "We don't have that! That's not done anymore!" I went home cowed thinking, "One of those crazy things only Americans do," and as a result, Finn was never swaddled. Finn cried a lot. Now I have my second baby, born in the U.S. and he has a SwaddleDesigns Ultimate Receiving Blanket ($25). I am aware that you can use pretty much any square blanket for swaddling, as long as it is not too thick, but as a beginner, you want to play it safe. You want a blanket designed for swaddling and one that comes with instructions. Would be nice if it looks nice too. Enter the Ultimate Receiving Blanket which comes with a tag sewn on the blanket that explains swaddling in four pictures, so that even the clumsiest mother (like me) gets it. And it is large enough (42"'x 42") that my 12-pound two month old Buddha-baby still fits in easily. With its cool instead of cutesy designs (dots, squares, and circles on solid pastel) the swaddled baby looks kind of like sushi rather than a baby Moses. Last but not least, the blankets are 100% cotton and made in the USA. So are the matching burp clothes that turn this indispensable item into a fashion accessory; a very useful accessory however, since it has a thicker center padding.
My only complaint – SwaddleDesigns' quality seems to be too delicate for my washing machine. Blanket and burp clothes came out a little fuzzy after the first couple of washes. And I don't think that any designer should expect mothers to handwash blankets or burp cloths in the sink, as much as they might love them.
By the way, I recently read an article in Germany's leading parenting magazine: "The comeback of swaddling." There we go.
Celeb fans include Tori Spelling (who has been seen out with the Pastel Pink Stroller Blanket), Gwyneth Paltrow, Marcia Cross and Shiloh Jolie-Pitt (who has been see clutching the Pastel Pink Fuzzy Baby Lovie).
— Iris
Deal: For a limited time, SwaddleDesigns blankets are on sale for 30% off at TheRightStart.com.