Reese Witherspoon Bracing For Deacon's Transition to Kindergarten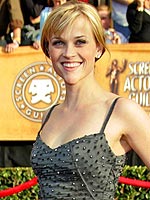 Reuters/Landov
Like most moms Reese Witherspoon has mixed emotions when she thinks about her youngest child moving on to kindergarten. As 5-year-old Deacon Reese looks forward to the transition this fall — informing his mom "I'm done with preschool" — Reese is not quite as enthusiastic. "I'm so upset," she admitted last Wednesday on Live with Regis and Kelly.
"I'm crying harder than him…It's sad, a little bit."
If she needs something to occupy her time while the kids are at school, Reese, 33, can always tend to the chickens! She now has 21, each of whom lay an egg every day. "That's a lot of eggs, people!" she pointed out.
In addition to Deacon, Reese is mom to 9 ½-year-old Ava Elizabeth; Both are her children with ex-husband Ryan Phillippe. Her new movie Monsters vs. Aliens is in theaters now.
Source: Live with Regis and Kelly