Julianna Margulies On Seeing the World Through a Child's Eyes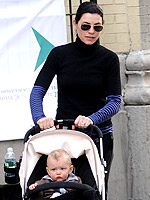 Splash News Online
The milestones are coming fast and furious now for 14-month-old Kieran Lindsay Lieberthal, son of Julianna Margulies and her husband Keith Lieberthal. "Your child starts talking and you think you're the luckiest person in the world," the 42-year-old actress tells the April 6 issue of Us magazine. You also gain a new perspective on life! Adds Julianna,
"That's the most beautiful thing about watching your child grow…You see the world through their eye, so things stay fresh."
Kieran is the first child for the couple, who married in 2007.
Source: Us