Carnie Wilson Shows Off Luciana's Nursery!
Carnie Wilson and her hubby, musician Rob Bonfiglio, are eagerly awaiting their next gift from the stork: a little girl, expected in June, whom the couple have already named Luciana. But no one in the house is more excited than Luciana's soon-to-be big sister, Lola Sofia!
"She's really, really thrilled," Carnie, 40, told Life & Style during a recent visit to the family's home in Tarzana, Calif. "She was with me when I took the pregnancy test, and when we looked at the stick, she started jumping up and down, going, 'Mommy, you're pregnant!' She's so excited for this baby to come."
Lola, who turns 4 this month, even moved down the hall to a bigger bedroom so Carnie could get the nursery ready for Luciana. "The furniture's absolutely gorgeous," Carnie raves. "It's from Bellini. I wanted soft colors and a soft palette, so it's a lot of cream with subtle accents of pink."
But nothing's sure to soothe the infant more than her mother's lullabies — and Carnie's been preparing by composing her own. "Music is so important to me," she explains. "I'm already going into the room at 3 a.m. and playing nursery themes and rocking in the chair and just imagining what it's going to be like to have another. It's going to be great."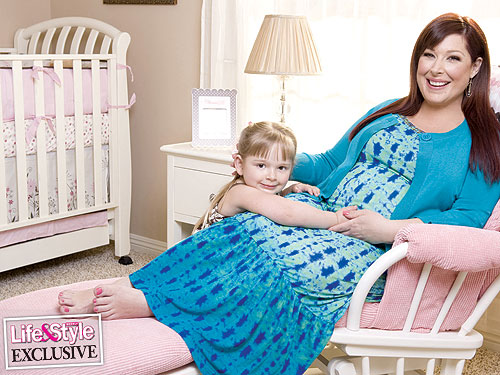 Courtesy Life & Style for use on CBB
Carnie's struggled to control her weight nearly all her life. But now that she's six months pregnant, she's enjoying taking the pressure off herself. "I've put on 38 pounds," she tells Life & Style. "I had originally wanted to gain only 25 to 30 pounds, but that didn't happen — and I'm not beating myself up for it. I don't want to be neurotic; I want to celebrate the pregnancy."
For now, she's been adding an extra 200 to 300 calories a day to her diet in the form of snacks like rice cakes with peanut butter and raspberry bars from Whole Foods Market. Once baby Luciana is born, Carnie's planning to go back to a diet free of wheat, dairy, sugar and dark meat.
"It's a really strict plan," she admits, "but I feel so good when I eat like that. I love things like brown rice and tofu and spaghetti squash. I've learned how to cook vegetables really well!" In fact, she's so confident about her healthy-cooking skills, Carnie's working on a diet book called Addicted to Health.
Click below for two more photos of the family!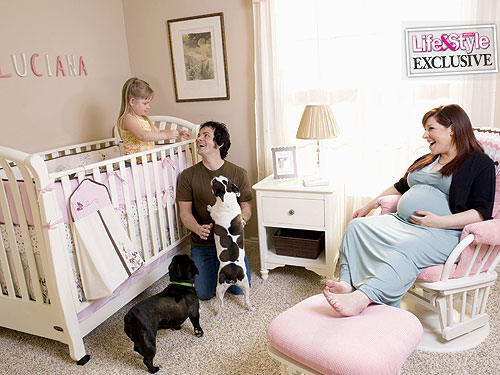 Courtesy Life & Style for use on CBB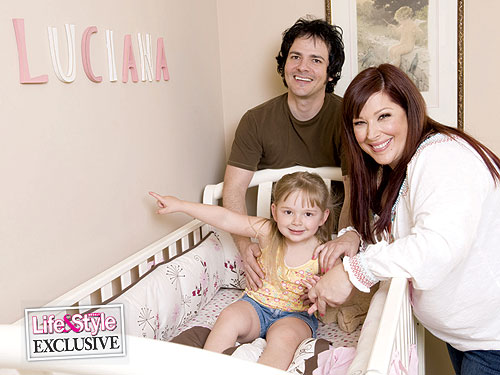 Courtesy Life & Style for use on CBB