Brooke Burke's Slumber Party Success Story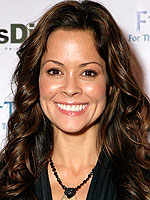 Todd Williamson/WireImage
Brooke Burke recently marked daughter Neriah's ninth birthday with a slumber party, and a good time was had by almost all. "I agreed to do it as long as she only invited five friends," the 37-year-old Season 7 Dancing With the Stars champ blogs. "Five quickly turned into nine, but with courage, I began to plan a fun night with her." To say the least! Brooke and fiancé David Charvet heated the pool and the jacuzzi for the girls, ordered Chinese food and helped Neriah load her iPod with music…and then Brooke got crafty. After purchasing t-shirts from The Gap, multi-colored diamonds "inspired by DWtS" from Michael's and fabric glue, Brooke let the girls create their own masterpieces. She writes,
"They were so excited about the project, and began bedazzling personal designs. When they were finished, I fringed the sleeves and cut slits across the back. It reminded me of my rocker days back in high school. When finished, they put them on and did a dance show. Sooo cute!"
The birthday girl and her guests then munched on popcorn, settled into their sleeping bags and began to watch a movie "in the screening room." One young guest began to complain of a headache, however, which quickly turned into a fever and chills — leading to a hasty exit at 11 p.m. After the movie, Brooke "called for lights out" but the lights didn't stay out for long.
"At 12:30 a.m. I was awakened by 'Excuse me Mrs. Fisher, I can't sleep.' David loved that title, LOL!! I went downstairs to comfort her, but she insisted on calling her dad and needing to go home. By 1:00 a.m. I had talked her out of it and we were both ready to sleep again."
Just a few hours later daughter Heaven Rain, 2, was once again climbing into her parents' bed, and son Shaya Braven, 1 year, was also awake. As the rest of the house roused from their slumber Brooke made bagels and eggs for the party-goers, who had made their way out into the yard to play. "After a mellow and polite breakfast, their parents began to pick them up in rounds," she writes. "I can't imagine what nine little boys would do at a sleep over?!"
"I was wiped out, but Neriah had a blast! Aside from two friends, it was a great success."
In addition to Neriah, Brooke is mom to 6 ½-year-old Sierra Sky with ex-husband Dr. Garth Fisher. Rain and Shaya are her children with David.
Source: Baboosh Baby