Will Arnett Celebrates the Return of Solid Sleep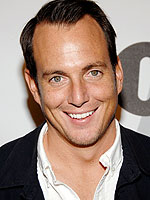 Jean-Paul Aussenard/WireImage
As his wife Amy Poehler prepares for the April 9th debut of her new NBC sitcom Parks and Recreation, Will Arnett, 38, says she's also honing in on her juggling skills. "Amy is just like any other working mom out there," he tells Parade. "She's just going to have to kind of find the balance and that's what we're figuring out." The 37-year-old actress is "having a great time right now being a mom" to the couple's 5-month-old son Archibald 'Archie' William Emerson, Will added. "[She's] doing such a great job." Amy's return to the small screen and Will's work in Monsters vs. Aliens isn't all they have to celebrate, however. Says Will,
"I discovered that when you're a new dad and start getting more than four hours sleep a night that's like a major victory."
When Archie wakes up, he is greeted by two of the funniest names in entertainment — a fact which isn't lost on the couple, who are competing to see "who will get the first laugh." All the same, Will has a suspicion that neither will win.
"Honestly, I think what's going to end up happening is he's going to find us both very unfunny."
Archie is the first child for the couple, who married in 2003. Monsters vs. Aliens is in theaters now.
Source: Parade