Melissa Joan Hart Says Brady 'Not Quite' Ready to Walk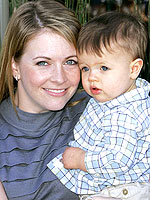 Landov
The eating habits of a toddler can be a curious thing; It's something Melissa Joan Hart knows all too well. The 32-year-old actress tells the April 6 issue of Us magazine that her second son — 12-month-old Braydon 'Brady' Hart — is particularly particular at the dinner table! "He doesn't like anything mixed," she explains. "He likes his meat and his vegetables — but he doesn't like it mixed together."
From the sound of things, Brady is in no hurry to catch up with his big brother Mason Walter, 3, either.
"He's trying [to walk] but he's not quite there. He doesn't care that much — we carry him everywhere."
Mason and Brady are Melissa's children with Course of Nature frontman Mark Wilkerson.
Source: Us