LaKisha Jones Expecting Second Child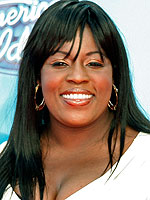 Kevin Winter/Getty Images
As a competitor during American Idol's sixth season, LaKisha Jones earned fame and fans as the single mom with a big voice. Now LaKisha, 29, is no longer single — she married financial advisor Larry Davis last October — but she's double the mom! She'll welcome her second child — a sibling for 6-year-old daughter Brionne — in August.
The baby will follow the release of her aptly named first solo CD, So Glad I'm Me, out on May 19th. "When I think about all the goodness in my life right now," LaKisha said, "everyday I think 'I'm so glad I'm me!'"
Adding to their family was important to LaKisha, who says that Brionne started calling Larry 'Dad' even before their wedding. "The way he interacts with my daughter and treats her as his own…I love that," the songstress, who finished fourth on the series, told PEOPLE in October. "I may not have won American Idol, but I have won because I'm able to provide a better life for me and my daughter and that's all I've ever wanted."
The first single off of So Glad I'm Me, "Let's Go Celebrate," is currently available on Amazon.com.
Source: PEOPLE