Kelly Rutherford Prepares Hermés for Big Brotherhood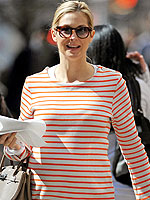 Pacific Coast News
As Kelly Rutherford hides her ever-growing bump behind a stream of big handbags on Gossip Girl, there's no hiding the fun that's in store for her 2-year-old son Hermés Gustaf Daniel. "He's so excited," the 40-year-old actress tells OK! "We read books and talk about it with playdates and things … He's really excited about it." From the sound of things Kelly won't be needing any books to refresh her own memory of what lies ahead! A second pregnancy is "different," she notes, before adding,
"I think the first time, everything's so new. The second time, it's just as exciting but there are things that you've already explored and understand, so it's a little bit easier on a certain level."
Her comfort level still isn't on par with former Melrose Place co-star Lisa Rinna, however, who famously posed for Playboy while pregnant. "She has an insane body," Kelly points out. "I'm a realist. I look more like a real mom."
Hermés and baby-on-the-way — a girl due in June — are Kelly's children with estranged husband Daniel Giersch.
Source: OK!