Jerry O'Connell: The Twins Are Going to 'Walk All Over Me!'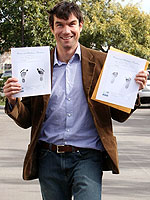 Star Pix/INF
New father Jerry O'Connell may very well find himself eating his words in the near future! In an interview before welcoming his fraternal twin daughters, Jerry protectively proclaimed he would only allow Charlie Tamara Tulip and Dolly Rebecca Rose to date men of high standing; Now it seems that he may have spoken too soon. "I really thought I was going to be a very strict father about what they could wear, when they could go out, and all that," he says. What the proud papa failed to take into account, however, was the power of his baby girls' smiles.
"But now that they're starting to smile at me, I just know they're going to walk all over me."
While the 35-year-old hates being away from the girls — after a few hours of not seeing them he "miss[es] them so much" — for now Jerry need not worry about the thought of separation. With his wife Rebecca Romijn filming her new series The Witches of Eastwick, Jerry and the twins have set up camp on set in order for the babies to continue nursing. "I watch the kids at work. It's good — they like coming to another place," he shares. Although the arrangement works perfectly for the family of four, Jerry laughs that not all are comfortable with the plans! "[Rebecca] had a kissing scene today and it must have been weird for the other actor to know she has kids and a husband nearby!"
Life with two 3-month-olds hasn't been all fun, explains Jerry, who admits "nothing prepared me for what it would be like to raise twin girls." Case in point? The girls' inability to coordinate their schedules! "When one quiets down, the other one starts up," he notes. However, despite caring for his daughters during the day, when it comes to the night feedings, Jerry agrees that Rebecca seems to have it the hardest.
"At night, I am sleeping more than my wife — who is a saint. She has to get up."
Source: Monsters and Critics