Diana Krall Keeps Her Focus On Family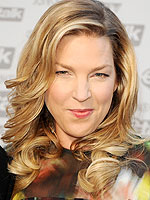 George Pimentel/WireImage
Once able to dedicate her undivided attention to her music career, pianist and singer Diana Krall has had to adjust her schedule to accommodate her two latest loves in life: her 2-year-old twin boys Dexter Henry Lorcan and Frank Harlan James. Admitting that she no longer has the abundance of time to work on her music, the trade off, Diana tells USA WEEKEND, seems to be a stronger sense of focus. "Especially now that my children are a little older and really interactive, I think I'm doing better work," she says.
While the 44-year-old may think her new album reflects the person she has become, she laughs that there are no two better critics of her work than her own little boys. Although Frank and Dexter enjoy listening to their mom and singer/songwriter dad Elvis Costello show off their skills on the piano — "it's just normal for Mommy and Daddy to be practicing" — they are famous for letting their parents know when they have heard enough!
"They have strong opinions on what songs they like, that's for sure. If they don't like something, they tell you to stop. They're a tough audience sometimes."
Catching only a taste of their mom's music, the twins will have to wait until they are a bit older to hear the album in it's entirety. First, Diana says, they must master the classics. "They've gotta learn 'Wheels on the Bus' before show tunes and the Great American Songbook," she jokes.
Diana's new album Quiet Nights is in stores now.
Source: USA WEEKEND