Alison Sweeney on Her Postpartum Weight-Loss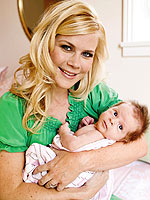 Alison Dyer for PEOPLE for use on CBB
People were amazed when actress Alison Sweeney returned to the Days of Our Lives set just two weeks after giving birth to daughter Megan Hope — now 10 weeks — looking great! The Biggest Loser host claims that one of the reasons for her fabulous post-baby body is the fact that she was careful not to gain too much weight during the pregnancy. "Knowing how you're going to have to work to get yourself back into shape afterward, you're a little more careful, so I didn't gain nearly as much weight" as with son Benjamin Edward, 4. Helping keep the weight gain down were some tough pregnancy symptoms. "I had morning sickness for more than six months and it was really bad," says Alison, adding that "some days, all I could eat was cereal. I went through Cheerios by the box."
While Alison has lost some of the weight, she is still trying to get rid of a few extra pounds. "I tried to stay active and stay with my workout plan, but having two kids, it's a lot harder to get back in shape because your time is cut even more in pieces. Plus, I'm working two jobs and I was only working one after Ben," she says. However, Alison is using one of those jobs — hosting The Biggest Loser — as motivation.
"It's a nice reminder every week of what commitment does and how successful you can be when you work at it. And there are no excuses."
Click below for more on Alison's postpartum weight-loss!
As for exercising, Alison was gifted with a new fitness program for the Nintendo Wii, called EA Active, and "it's been the total savior." One reason that she loves it so much is that she's "able to do it at home, and I don't have to get a babysitter and I can include Ben in it." Alison tries to "do it as often as I can, which is like four or five days a week for about a half-hour. It has a lot of fun, active choices and is a good distraction from the 'chore' of working out. It's been awesome."
Another motivating force for Alison is that of her co-worker, The Biggest Loser trainer Bob Harper. "Bob said to me the other day, 'I haven't seen you in spin class lately,' and I said, 'I'm coming, I'm coming.' So there I was on Saturday morning and interestingly, biking next to Vanessa Marcil," who couldn't believe Alison was there, since "I had just had the baby four or five weeks earlier." No matter what she does to lose the weight, Alison is just as tempted as ever to sneak some treats in, but is trying her hardest not to.
"At Days this morning, one of the crew guys, Jay, brought in these lemon miniature muffins that he made that looked scrumptious. Probably when I was pregnant, I would have had one without even blinking, 'cause I would say my biggest weakness is home-baked goods. I am not tempted by candy bars or anything prepackaged like that, but when someone makes something from scratch, it's very hard to walk away from. So today, I said 'Nope.'"
Alison is married to Dave Sanov.
Source: Soap Opera Digest, March 31st issue