Ty Murray On Fatherhood: 'When It Should Happen, It Will Happen'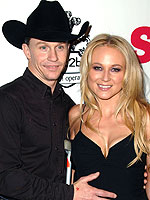 Scott Kirkland/INF
Songstress Jewel and her husband, rodeo cowboy Ty Murray, have made it no secret that they are looking forward to starting a family, and according to Dancing With the Stars contestant Ty, the announcement may come sooner rather than later!
Forced to hang up her dancing shoes after sustaining an injury during rehearsals, Jewel promised her fans that she would one day be back doing the salsa on-screen; Ty, however, seems to have other plans for his wife. "We'll see what the future holds, but it'll be hard to do [the show] if her belly is out to here," he tells E!.
Already planning for two children, Ty admits that he envisions his future family — hopefully — blossoming with shades of both blue and pink. "In a perfect world, it would be great to have a little boy and a little girl, but you don't get to do it like that," he says. Determined to let the events unfold naturally, the future father and his wife are letting nature take its course, as they look forward to being pleasantly surprised with a pregnancy.
"We're trying not to focus on it too much. We're just trying to live our life and go about our life. When it should happen, it will happen."
Catch Ty, 39, showing off his dance moves Monday nights on Dancing With the Stars, airing at 8 p.m. on ABC.
Source: E!