Parminder Nagra Enjoying a 'Spicy' Pregnancy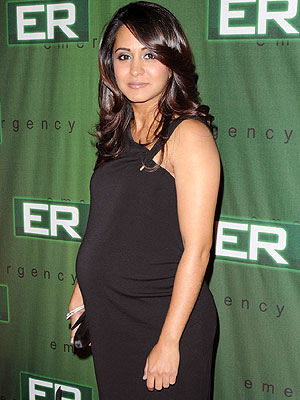 Jill Johnson/JPI
Parminder Nagra spent March 28th saying goodbye to the place that she has called home for the past five years — ER. The show held its series finale party at Social Hollywood over the weekend and Parminder (pictured at the event), 33, was eager to chat about her time on the show — as well as the baby she and husband James Stenson are expecting in late May/early June!
The actress shared that as far as cravings go, at the beginning of her pregnancy she wanted "frosted flakes and things like filet of fish, which I don't even really eat." However, the cuisine she desired the most was Indian food. She revealed,
"I craved Indian food most of all, which is probably going to drive my baby crazy! All that spiciness, but what can I say?"
ER's finale will air this Thursday at 9 p.m. on NBC.
Source: The Press Association
Parminder wears A Pea in the Pod's Sleeveless Knot Shoulder Maternity Dress ($225).