Nitesweatz: Hot Mamas Stay Cool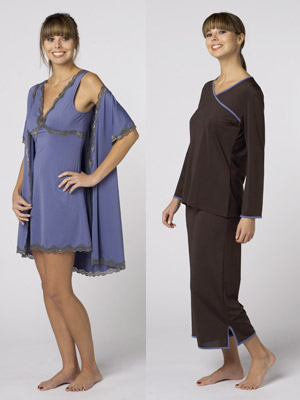 For some reason nobody told me that new moms frequently dissolve in sweat in the middle of the night, as if a screaming newborn wasn't enough to screw up your sleep patterns! It must be the hormones. When we met Lesley Hatfield, the inventor of Nitesweatz, she was hanging out in her jammies in a tradeshow booth and I promise you, she was much more comfortable than the rest of us! A mom and former personal trainer, she developed a gorgeous line of sleepwear for women made from the moisture-wicking fabric athletes wear. Nitesweatz come in many great-looking styles and colors. Their Lace Chemise ($86) is perfect for nursing moms because a bra pad stays in place and the straps pull down for easy access. And it comes in 16 different colors! The cut is trim, so if you're concerned about lingering baby weight, consider their great-looking Lace Pant and Tunic Set ($152). They also have sleep shirts, boy shorts, lacy tank tops, a camisole with a shelf bra and long nightgowns made from the same fabric. The feel is silky and the styles are sexy. The care label has machine washing instructions then just says, "Breathe." A fitting reminder, I think!
In those first weeks as a new mom I woke up with my hair and pillowcase soaked in sweat, so I think it's brilliant that they offer a moisture-wicking pillowcase ($42). That just may be the perfect shower gift!
— Kristen