Gavin Rossdale Unsure of Kingston's 'Punk Rocker' Future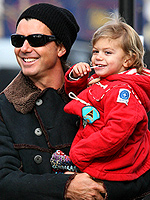 Ian Lawrence/Splash News
Successful singer/songwriter and father Gavin Rossdale seems to have discovered the secret to balancing his demanding career with the responsibilities of parenthood. "How do you make it work?" Gavin asks in a new interview with Entertainment Tonight. "Organize the chaos!" For Gavin, that advice will soon be the key to smooth sailing.
Ready to head out on tour — his wife, songstress Gwen Stefani will simultaneously be on the road with her band No Doubt — Gavin admits that bringing his boys along for the ride will "be challenging," but could not imagine his life any other way. "I like the idea that we're both working and both doing what we love," he shares. "So, that's the way it goes. Anyone who has kids knows about sacrifices and the time you spend with your kids and working and different priorities."
While baby Zuma Nesta Rock, 7 months, will tour with his mom — "he needs the milk, you know?" — Gavin couldn't be more thrilled to have 2 ½-year-old Kingston James McGregor keeping him company. According to the proud papa, Kingston is already aware of his famous father's singing abilities. "He knows what we do and he asks me when I leave the house if I'm going to go sing today," says Gavin. While Kingston may be on the sidelines watching his parents belt it out on stage, Gavin has no doubt that his "punk rocker in the making" will be a star of his own some day.
"I don't know if he's going to put that punk rocker to use in a band or whether he's going to be like a Svengali manager."
Source: ET Online