Chyler Leigh Embraces Life As a Young Mom, Foresees Daughter's Future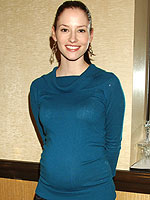 Vince Flores/Celebrity Photo
Life for Chyler Leigh has moved along quickly since she welcomed her first baby at 21 years old: She is now due with her third child — a girl to be named Aniston Kaye — on May 15th. While the actress and her husband Nathan West couldn't be happier with their growing family, Chyler tells Pregnancy that the ride hasn't always been smooth. "We were really excited, but we were really scared," she says of her first pregnancy.
After a few months of dealing with mixed emotions, the new mama faced the reality and embraced the responsibilities of motherhood. "About two months postpartum I thought, 'Wait a minute, I have a baby. This is a good thing!'" she recalls. "It was really taking the time to appreciate it and go, 'It's time to buck up and get things going!'" Now, six years later, the thought of being a young mom — and still being relatively young when her baby is grown — delights her.
"By the time this last one will be 18, I'll be 45."
Foreseeing a future in the martial arts for her third child, Chyler jokes that she envisions her daughter as a "kung fu master" after the many kicks she has graciously gifted her mom with over the past few months. "I don't remember the other two being this active and that makes me a little bit nervous," she admits. While Chyler's 2 ½-year-old daughter Taelyn Leigh may have been quiet in the womb, she is sure giving her parents a run for their money now! Calling her little girl "such a spitfire," the Grey's Anatomy actress is in awe of Taelyn's "wild and passionate spirit."
A gentle soul with a "sensitive, caring heart," 5-year-old Noah Wilde basks in the special mother-son time spent each evening before bed, Chyler shares. Enjoying her favorite time of the day — "bath time, getting ready for bed, and tucking them in" — the proud mama and her little boy often spend the minutes before lights out snuggling together! "It's really important for my son that we have at least a minute of cuddle time. It's just sweet," says Chyler. Noah's other priority in life? Craft services!
"[When my kids are on the set] Noah thinks that the craft-service room is the coolest place ever because it's all cookies and cakes at eye level. He thinks it's amazing."
Source: Pregnancy 360