Sean Astin Accepts Kid-Friendly Role, Says Daughters Are Impressed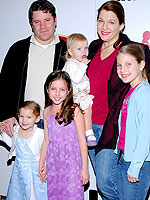 Michael Tullberg/Getty I
After a slew of movies not suitable for a young audience, actor Sean Astin is back to lend his voice as Oso in the Disney Channel's new series Special Agent Oso — work, the father of three says, that his children will finally be able to watch. With past roles including a drug addict and a homicidal killer, Sean admits that he has been approached by countless parents on the street, all urging him to take on a role in a family film. According to the "excited" 38-year-old, their wishes have been granted.
"More than anything else, except maybe Meerkat Manor (Sean is the narrator) — this is the most direct, specific way that I can communicate as an actor to kids."
While Sean may impress kids with his character's top skills as an investigator, the actor admits that his own daughters showed little excitement for their dad's new role…that is, until, the trio's attention was captured by a commercial promoting the series! Sharing that the girls "went ballistic," the proud papa notes that Oso is here to stay in his household. "They can't get enough of it," he says.
Although the girls were aware of Sean's career before he landed the kid-friendly role, he explains that there has been a "direct effect of them enjoying Oso." The result? A much-wanted encore! "It kind of brought them to the fact that their dad's an actor a little more than before and now they want to start watching other movies that I've been in," he says.
Sean and his wife Christine are parents to daughters Alexandra, 12, Elizabeth, 6 ½, and Isabella, 3 ½. Special Agent Oso will premiere April 4th on the Disney Channel.
Source: Lil Sugar