Reese Witherspoon Walks the Line of Motherhood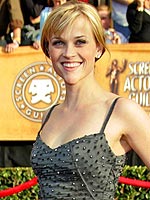 Reuters/Landov
Reese Witherpoon — who shot to fame in 2006 after winning the Best Actress Academy Award for Walk The Line — opened up about a different line entirely during a Friday appearance on The Ellen DeGeneres Show: The line between being a friend and being a mom to her two kids Ava Elizabeth, 9, and Deacon Reese, 5. "I say lots of mom things, all sorts of things I never thought I would say," she admitted. "Like, you know, I'm not your friend — I'm your mother." Reese added,
"It's not nice sometimes to be a mom, you have to be really tough. It is a very fine line. You can't cross over it. Otherwise, they might think they're winning."
Elaborating on earlier comments that her kids have — at times — thought of her as "a huge dork," the 33-year-old actress said that when she's being embarrassing, Ava isn't shy about letting her know. "My daughter is good, because she'll articulate it: 'You're embarrassing me. Please stop singing in front of my friends,'" Reese revealed. Deacon, on the other hand, is prone to giving dirty looks to get his point across!
"That's his non-verbal sign to stop talking about him. I'm such a mom. I'm like, 'What? What do you mean?'"
Ava and Deacon are Reese's children with ex-husband Ryan Phillippe. Her new movie Monsters vs. Aliens is in theaters now.
Source: The Ellen DeGeneres Show