Pregnancy News Left Jill Scott in 'Shock'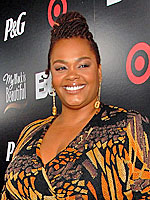 Frank Micelotta/Getty
After being told by doctors that she would never conceive, Jill Scott experienced "complete and utter shock" when she learned that she was pregnant. The day she realized she was expecting, Jill was preparing to travel to Botswana for filming of her new series, HBO's No. 1 Ladies Detective Agency. The news "stopped things for a moment absolutely. I was told I was pregnant on Friday, and I was supposed to be leaving that day at noon. I found out at 10 a.m." Jill shares,
"I called my doctors and of course, I called my family to let everyone know and to find out if it was okay to travel for that long distance during my first trimester of pregnancy. I wanted to know that I was all right because I hadn't had any shots. What were the possibilities? I wanted to know them all. Once I got the go-ahead from my doctors, I left the following day."
Once she arrived in Botswana, filming "was a challenge" for the actress. The temperatures were in the 100s and "being pregnant and the heat were very difficult for me; but I had great doctors around me. The crew really paid attention." Jill counts herself lucky because the crew "didn't seem to mind [her pregnancy] so much." However, she did feel pressure because "there was a deadline and I'm the lead. As far as I know, I'm the first African-American woman to be the lead of an HBO series, so there was a lot of pressure to get the job done, even between morning sickness."
As for her next acting gig, Jill, who starred in Tyler Perry's Why Did I Get Married?, would definitely sign on to a sequel — if one was planned. "I'm eight months pregnant right now so I would love for my character to either be pregnant or want to have a child." Her reasoning? "There are a lot of difficulties with people trying to conceive. I would like to see that topic addressed."
Jill, 36, and her fiancé Lil Jon Roberts expect their baby boy on April 25th. The couple have picked out a name for their son — but will "wait til [they] see his face" to see if it fits!
Source: Black Voices