William H. Macy On His Future Teenagers: 'I'm Shaking In My Boots!'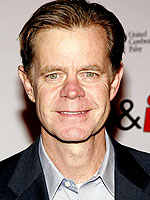 Anna Pocaro/London Entertainment/Splash News Online
Despite his days as a self-proclaimed "stealth" in high school, actor William H. Macy dreads the day he finds himself watching his two daughters walk through the doors and into their freshmen year. While there is no stopping the arrival of that momentous day — "I'm shaking in my boots thinking of my girls becoming teenagers!" — the 59-year-old and his wife, actress Felicity Huffman, can't help but take pity on their children as they recall their own school day experiences. "Felicity and I both sort of shuddered when we thought of how difficult high school is on kids," he tells PARADE. "I wouldn't want to go through it again."
Relating to his character in the new film Bart Got a Room, William shares that the adults who imagine themselves in the fairy-tale world of perfect parents are simply setting themselves up for failure. "Being a parent myself, I realize this whole notion of trying to be a good parent is a lose-lose situation," he says. Instead, for William — who questions the true meaning of a "good parent" — the feeling of being an accomplished father is a result of becoming a constant support system for the family. He explains,
"I do know that the way you keep score, when it comes to being a parent, is did you show up? Whether you had the right things to say or whether you handled the situation properly, who knows? But did you show up?"
William and Felicity are parents to Sofia Grace, 8 ½, and Georgia Grace, 7. Bart Got a Room will be in select theaters on April 3rd.
Source: PARADE