Virginia Madsen on Getting Back to Basics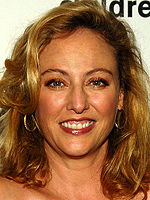 Mark Sullivan/WireImage
When the roles dried up somewhere around her 40th birthday, Virginia Madsen admits that she feared her time as an actress had come to an end. "I was worried about losing my home," she says. "My son was counting on me." Indeed, it was that son — 14-year-old Jack — who offered Virginia a safe haven from the "depressing" situation that had become her career. "The one solace was my private life and my son, she explains. "Maybe I was more ambitious in the beginning…Then I had my son, and the priority was raising him." For several years prior to her Academy Award-nominated role in 2004's Sideways, the 47-year-old actress even worked as an art teacher in Jack's school — an experience she calls "one of the most fulfilling" she's ever had. Recalls Virginia,
"I had to be there every single day. Suddenly, it wasn't about a role or getting a movie. It was about helping children, which really brought it all down to basics for me."
As for ex-boyfriend Antonio Sabato Jr., Jacks dad, Virginia offers up only praise. "We're adults," she notes. "From the moment our son was born, we made a commitment to raise him and love him." The former couple make it a point to never put their own needs ahead of Jack's. Adds Virginia,
"We know that this little boy needs all of the love from both of his parents."
Virginia's new film The Haunting in Connecticut opens today.
Source: Columbus Dispatch