Martin Sheen Prefers 'Peach' to Grandpa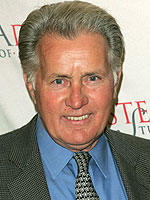 Jim Spellman/WireImage
Having recently welcomed his sixth and seventh grandchildren — 13-day-old fraternal twins Robert 'Bob' (yes, he called him Robert on-air!) and Max Sheen — actor Martin Sheen, 68, was beaming with pride during a Monday appearance on The Bonnie Hunt Show. Noting that his three adult grandchildren are "all doing very well," Martin says that they have already laid the groundwork with the younger Sheens with regard to what he will — and won't! —  be called. "From the time they were very small, they've referred to me as 'Peach,'" he explains.
"I was always quoting Shakespeare, using highfalutin language when they were young. So they used to call me 'Grandpeachual.' And even now, they'll call me up and say 'Hi Peach! How 'ya doin'?"
The twins are Martin's son Charlie Sheen's first children with wife Brooke Mueller Sheen. Charlie is also dad to Sam J., 5, and Lola Rose, 3 ½, with ex-wife Denise Richards and daughter Cassandra, 24, with ex-girlfriend Paula Profitt. Martin's son Emilio Estevez is dad to Taylor Levi, 24, and Paloma Rae, 23, with ex-girlfriend Carey Salley.
Source: The Bonnie Hunt Show