Heidi Klum: Leni Thinks Victoria's Secret Models are 'Barbies'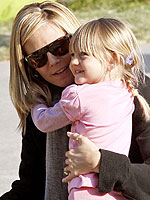 Ramey
The life of a supermodel is surreal for many, but for the children of a supermodel even more so! During a recent appearance on The Bonnie Hunt Show, Heidi Klum, 35, revealed that her 4 ½-year-old daughter Leni has been to the rehearsals for several Victoria's Secret fashion shows — and she likes what she sees! "Leni loves it," Heidi said. "She thinks it's 27 Barbies walking down the runway, so for her this is like…'Wow!'"
As for her other two children — Henry, 3 ½  and Johan, 2 — Heidi said she's looking forward to the fall when Johan will start preschool, and she'll have an empty nest to call home…for a few hours at least! "School will be like a one-stop shop," she notes.
"I'll drive there and drop them off…It's going to be great. Otherwise you have to drive them to all different places all the time which is hard when you have three, and they all have different things that they like to do. One likes soccer, the other is ballet, the other is hip-hop. So I try to have them all do things together."
Heidi raises her three children with husband Seal, whom she married in 2005.
Source: The Bonnie Hunt Show