Ali Landry Explains Decision to Hire a Live-In Nanny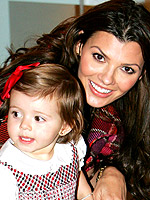 Most Wanted Pictures
All working moms have to tackle the issue of childcare at some point, and celebrity working moms are no exception. They have more resources at their disposal, however, and Ali Landry counts herself lucky to be able to afford a live-in nanny named Felicitas. "We are so grateful that it is within our budget," Ali tells Goddess. "She is a family friend and we absolutely adore her." Because both Ali and her husband Alejandro Gomez Monteverde work and their families reside in Louisiana and Mexico, respectively, daycare simply wasn't a feasible option for the couple's 20-month-old daughter Estela Ines.
"We needed to have someone that we were completely comfortable with who was available at a moment's notice. For us, the best choice was to get a live-in nanny."
While Felicitas is the best fit for Ali and Alejandro, the 35-year-old actress admits that sharing the responsibility of raising her child with someone else "can bring on a lot of emotions, including guilt and even jealousy." When she's feeling that "twinge" Ali says she soon remembers that she's fortunate Estela and Felicitas have each other in their lives. "I wouldn't have it any other way," she explains. "I think the bottom line for me is that I know Felicitas loves our child like her own…She makes me feel as though she would do anything to protect her if she had to."
"I also love that Estela is ALMOST as comfortable with her as she is with me — ALMOST!"
Case in point? When Estela was first learning to talk, she'd often call both Ali and Felicitas 'Mama.' Though Felicitas would immediately correct baby girl, Ali allowed the habit to continue. "I would just laugh and say, 'Yes, I am mama and, okay, this is your other mama,'" she recalled. "That would probably freak out a lot of my friends, but I guess I just finally learned not to sweat the small stuff." It's that approach that keeps the relationship between mom, nanny and baby healthy and strong. Adds Ali,
"I feel secure knowing that my child only has one mother, and no one will take my place. We have open communication with our nanny and we definitely understand boundaries. There is enough love in our children's hearts to share with everyone in their lives."
Source: Goddess
Thanks to CBB reader Meghann.