Smart Mom Teething Bling and Dr. Bloom's Chewable Jewels: Into the Mouths of Babes!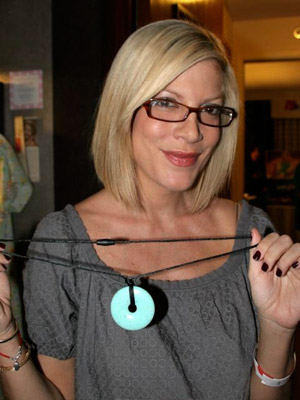 Tori Spelling shows off her Smart Mom necklace
How many times have you been at an appointment just wishing for one minute of peace from your teething baby so you can hear what the doctor is saying? Amazing teething jewelry from Smart Mom and Dr. Bloom are just what you need to get a word in edgewise the next time you need a moment (or ten!) of quiet from the wee teething one.
Every time I wear my pretty Brown Snowflake Donut Teething Necklace from Smart Mom Jewelry, my daughter chomps away happily and I use the time to have a conversation with a pal, eat a meal without interruptions, or, heck, just sit and enjoy a moment where I'm not the entertainer!
Same goes when I'm wearing my gorgeous Rectangle Plum Necklace from Dr. Bloom's. Even my son has benefited from the useful baby distraction — he got to enjoy a local story time and my daughter enjoyed… well… a local chewing time, if you will.
These lovely, chewy jewelry pieces are a brilliant solution for moms on the go. There's nothing to pack, since you just wear whatever pretty necklace or bracelet happens to match your wardrobe (and let me tell you, people are shocked when they find out these pieces are for chewing – they look like elegant stone pendants) and you're all set.
Both are free from harmful chemicals and are safe for babies to chew on. Dr. Bloom's are even dentist-created and endorsed while Smart Mom necklaces come with a breakaway safety clasp. And both companies donate a portion of their proceeds to children's charities. You can't go wrong.
There's a necklace or bracelet style to appeal to every mom. Find yours and enjoy the peace. You can thank me later.
— Stephanie
CBBDeal: Get 20% off Smart Mom Chewable Jewels using coupon code S-SB (expires June 26, 2009).