Shooter Jennings Says Alabama is a 'Really Funny Human Being'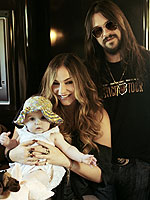 Jim Wright for PEOPLE for use on CBB
Music brings Shooter Jennings extreme happiness, but what brings him the greatest joy is Alabama Gypsyrose, his 16-month-old daughter with partner Drea de Matteo. Shooter loves fatherhood so much that he has even taken to wearing t-shirts that feature Alabama's favorite characters from Sesame Street! "One looks like [the Beatles'] Abbey Road [album cover], with Bert and Ernie and the Cookie Monster walking across the street. My daughter just loves Ernie. He's her favorite character in the whole world. She says 'Ernie' all day long," shares the singer.
No matter what she does, Shooter is just enjoying watching his daughter grow and change each day.
"It's so much fun to watch her grow up and start becoming this really funny human being. She's got so much personality. It's the best thing in the world. I've never done anything that I'm more proud of."
Alabama is the first child for Shooter, 29 and Drea, 37.
Source: CMT