Kara Janx Expecting Second Child, a Boy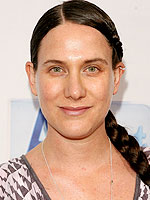 Bryan Bedder/Getty
After winning the second annual International Design Awards for sportswear, former Project Runway contestant Kara Janx will unfortunately be a no-show at the ceremony in Los Angeles. Her absence however, is with good reason! "I'm like seven months pregnant," she tells Project Rungay. The 32-year-old designer is due in June and reveals that baby-on-the-way is a little boy.
Having started her own line — appropriately titled Kara Janx — in the comforts of her home, Kara has recently packed up her drawings and moved into a "beautiful office in the garment district." Determined to still have her daughter Dylan, 16 ½ months, close by and eager to separate her work from her living area, Kara has made sure to leave enough space to accommodate her children.
"Half of the office actually works as a little nursery for my little girl because she comes to work with me quite often. I'm so happy I'm out of the house. I need the space for my business to grow, but I also needed to get out of the house."
Dylan and her soon-to-be little brother are Kara's children with her husband Sharone Sohayegh.
Source: Project Rungay
Thanks to CBB reader Sarah.